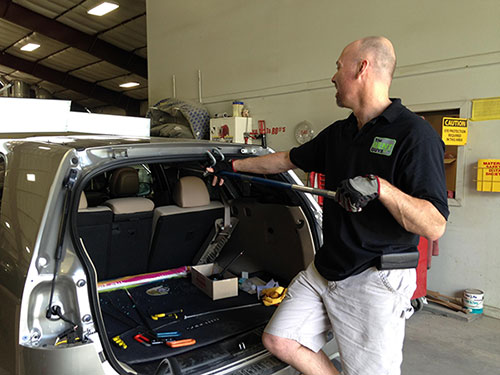 When golf ball size hail pelted Rutland last week, local car dealerships watched their shiny new inventory take a big hit. But those very same dealerships and many other businesses in Rutland County will likely enjoy an economic silver lining. Traffic in and out of the Crash Palace, an auto body shop in Rutland, has been crazy this week. The waiting room is filled and the parking lot has become an insurance triage area with adjusters using their cars as mobile offices.
Al Mclaughlin rolls down his window and introduces himself. "I'm an adjuster for Nationwide Insurance." Looking over the parking lot, there are more insurance cars than you can easily count. Mclaughlin nods, "We got Liberty Mutual, Geico, Progressive, Nationwide." Mclaughlin is based in St Albans. His company sent adjusters from Burlington and Waterbury to Rutland as well and he says they've all been incredibly busy. "We've got 3 people coming in every hour every day and we are booked not through this Friday but clear through next Friday. I been here since last Thursday and will be here 'til it ends," he says with a tired laugh.
Inside the Crash Palace, Dan stands on a small ladder carefully removing dents from a silver wagon. "I'm a PDR technician, a hail technician," he says. "We repair hail-damaged vehicles across the U.S." PDR stands for paint-less dent removal, but folks like Dan are more commonly referred to as dent guys. Like the utility linemen that restore power after a storm, dent guys follow the hail. "My home is in Massachusetts," he says, "but during the course of a hail season I call many places home." For the next three to four months, Dan and dozens of other nomadic dent guys will call Rutland home. They'll stay in local hotels, eat at local restaurants and help with the tidal wave of repair work.
Gary Jones owns Wayne's Body Shop in North Clarendon. During a normal four day period he might write up 10 to 15 repair estimates. In the last 4 days he says he's done more than 230. "This is like 100 car pile up in your parking lot, he says. "It's overwhelming. I had three 13 hour days, never leaving the computer with my wife taking the owner information and VIN numbers, and me never leaving other than to go get up and look at a car. And," says Jones, "people lined up in the office 15 deep." His business as well as local auto parts stores and windshield and window installers will all benefit, as will local car dealers.
Kevin Bowie, General Manager of Shearer Honda in Rutland says hail caused more than $750,000 worth of damage to his inventory. While he initially worried it would hurt business, he says thanks to insurance, it'll be a boon, especially for bargain hunters. "We've actually had 6 or 7 people come in already and buy a car and say no, I'll take it just like that. Don't fix it." For those who suffered the worst hail damage, Bowie says they may opt to skip repairs altogether and simply buy a new car. And while many will get their cars fixed, he says lots of folks may use their insurance money for other big-ticket items like furniture, appliances or a hot tub. "Millions and millions of dollars are pouring into the Rutland Economy and I think it's going to be tremendous for Rutland County and tremendous for the state."
---